| | |
| --- | --- |
| | New arrive for DSPeaker Anti-Mode |
Posted on 13 September 2013
Get the best performance out of your subwoofer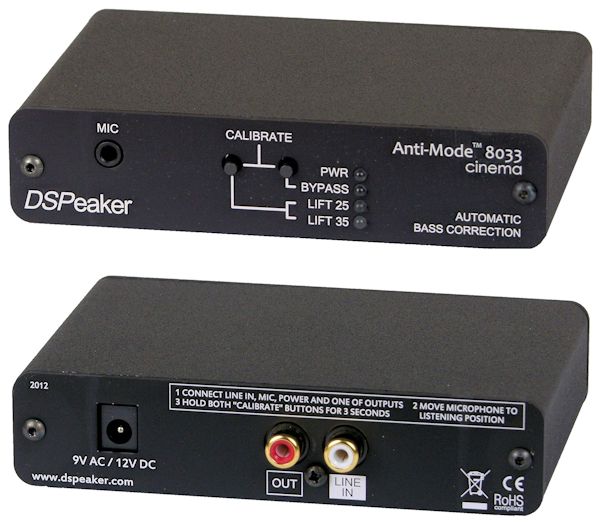 Anti-Mode 8033 Automatic Subwoofer Equalizer
A typical listening room resonates in low frequencies. Because of this, even the best subwoofer may not sound good enough. Much of the audio content get masked by the resonances, introducing unwanted characteristics (such as "slowness" and "boominess") to the sound. This problem is most pronounced when subwoofer is placed close to walls or corners of the room.
The Golden Ear awarded Anti-Mode™ technology eliminates the resonances of the speaker and the room by equalizing bothamplitude and time domain responses using very accurate digital signal processing filter structures and anti-phasing technology. This way, the listener can hear frequencies down to the cut-off frequency of the subwoofer. Transient response is also drastically improved in the process, making bass sound faster and more controlled.
Anti-Mode™ 8033 is very simple to use. The calibration process is completely automatic: it generates frequency sweeps to the desired calibration point (or multiple points) and measures the combined transfer function of the subwoofer-room system.
Anti-Mode™ 8033 uses regular RCA connectors, which can be found from vast majority of home theater equipment. Input to the device is taken from the line level subwoofer output of the (pre-)amplifier. Output is connected to the line level input of the subwoofer.
Features
Measures and corrects the combined frequency response of your subwoofer system and the listening room
User-friendly automatic calibration procedure
Can be used with any active subwoofer
Minimum phase filtering, no significant algorithm delay
Correction range 16-144 Hz
Three user-selectable additional equalization filters
Single or multiple measurement point calibration
Measurement microphone is included
Ultra-compact enclosure: 126 mm x 80 mm x 28 mm (5" x 3.2" x 1.1")
Low power consumption: 1.5 W
RoHS directive compliant
See connection examples for the Anti-Mode 8033 here. http://www.dspeaker.com/en/technology/anti-mode-technology/anti-mode-connection-examples.shtml
Press Quotes
Home Cinema Choice January 2011
"It works exceptionally well and makes those lower octaves firmer, smoother and better defined"
The Absolute Sound Buyer's Guide 2011
"The Anti-Mode provides a surprisingly well-balanced, smooth, and precisely defined bass that integrates very well with main speakers of all sorts"
Positive Feedback issue 50 (review)
"For $350 this has to be the best bang-for-the-buck tweak I have made in my system for a long time."
The Absolute Sound Magazine August 2010 (complete review: "An Essential Subwoofer Upgrade" p.38-41)
"Most reviews have to balance plusses and minuses. But this one is all plusses"
"I Listened both for bass extension and especially for how the Anti-Mode correction improved bass pitch, definition, and precision. And it did a superb job."
"Transient precision was excellent, as was pitch definition. The system had become transparent all the way down"
"The improvement of the bass [ with the Anti-Mode ] is going to amaze you. And look at the bargain price. Power to the people!"
The Absolute Sound magazine June/July 2010
"The result is superlative bass from any decent subwoofer"
"Even relatively inexpensive subwoofers enter the realm of close-to-perfect bass"
"A must-try product for anyone who uses a subwoofer, and yet another stage in the use of DSP to rationalize audio"
Anti-Mode is granted the Golden Ear Award 2010.
AutoSound 6/2009
The Anti-Mode 8033 with 12V Car adapter convinced the reviewers in the car audio systems by improving the bass drastically by removing harmful resonances of the bass.
AVforums.com, May 2009
"So, to sum up; It's small enough to tuck out of the way, sturdy, simple for technophobes, effective enough for technophiles, as cheap as it currently gets and it works. That makes it an easy recommended buy."
Mikrobitti 2/2009
"The bass was more solid and accurate, and the tones of the instruments were better distinguished"
Stereophile, April 2009
Anti-Mode 8033 is selected to Recommended components listings under Signal Processors category in the special issue of wth "500 recommended components". In addition the 8033 received rare "$$$" marking for it's exceptional price/quality rating.
"Where we have found a product to perform much better than might be expected from its price, we have drawn attention to it with "$$$" next to its listing."
Stereophile January 2009, "Music in the round by Kalman Rubinson"
"When I restored the 8033's EQ, each pedal tone became distinguishable. There was similar salutary effect with low percussion and winds, and, of course with film sound effects"
"In summary, the DSPeaker Anti-Mode is a dandy little device for taking care of the major influences of room modes. It is incredibly easy to use and reasonably priced"
HI-FI World August/2008
"Bass rhythms became tighter and unwanted 'thump' was lessened, making the bass more fluid and natural"
Hifimaailma 1/2008 (in Finnish)
"Calibrated subwoofer sounded clearly more balanced and accurate. Also the integration to the main speakers improved, and localization of the subwoofer diminished"
"Anyone can use it, and the result is always consistently successful"
Hifimaailma 2/2008 (in Finnish), Automatic calibration systems review (Audyssey, MCACC & YPAO)
"For example the Anti-Mode 8033 tested in previous issue, was compared to these systems completely superior tool for adjusting the subwoofer"


« Back